Hotel Skadarlija, About Belgrade
Belgrade, a city of very turbulent history, is one of the oldest in Europe. His history lasts for 7,000 years. The area around the great Sava and Danube rivers was settled even in the Paleolithic period. From the early Stone Age, remains of human bones and skulls of Neanderthals, found in the quarry near Leštane, in the cave on Čukarica and near Bajlonijeva pijaca. The remains of the culture of the young Stone Age were found in Vinča, Žarkovo and Gornji grad, above the confluence of the Sava in the Danube. This indicates that the area of ​​Belgrade was inhabited continuously and that the intensity of this settlement has become stronger. Many of today's settlements of the Belgrade surrounding lie on the cultural layers of the prehistoric prehistoric settlements. Vinche near Belgrade is among the most important settlements and cultural sites of the prehistoric period. Archaeological excavations at Rospija, Gornji grad, Karaburma, Zemun and Vinča confirm the assumptions that the area of ​​Belgrade was intensely inhabited and that its inhabitants were engaged in lush farming and other accompanying economic activities. Bronze and metal age necropolises were discovered at these sites as well as evidence of various cultural influences. There are places in Belgrade that you must see and feel. Streets, squares, monuments, parks, fountains, archaeological sites ... and other sights that deserve a recommendation. Many of them have been declared cultural property. For this reason it is important that the hotel is in the center of Belgrade.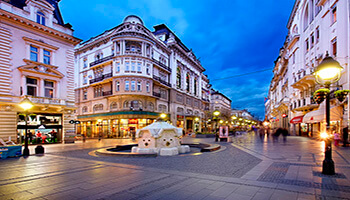 Belgrade is the center of culture and art of Serbia. In Belgrade, our most important artists are created, more than 11,000 theater performances, exhibitions, concerts, performances and other art programs are held annually, and numerous eminent artists from the world of art are hosting.
Belgrade is the seat of the highest state and national institutions of culture and art: the Serbian Academy of Sciences and Arts, the National Library of Serbia, the National Museum, the National Theater and the University of Art. The most important works of architecture in Belgrade, Kalemegdan and Belgrade Fortress are in Belgrade, cultural monuments and other immovable cultural assets, numerous archaeological sites with material remains that testify about the developed civilization and culture on the territory of Belgrade from prehistory to the present.
The City of Belgrade is the founder of 30 cultural institutions (12 theaters, 8 protection institutions, 4 libraries, 6 centers for culture and gallery), and at the same time it helps the realization of programs and program projects of institutions and art associations.